About Us at Inside Peru
---
Home

>
About Us
---
~ Choose from 66 Hotels in Machu Picchu Village (Aguas Calientes) from $20.00 to $600.00 USD ~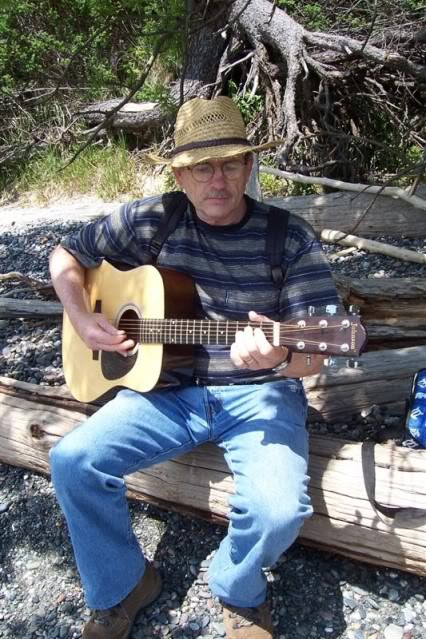 Welcome to this page about the folks (us) at Inside Peru!
We are David and Linda (Lin) Schneider.
Linda:
Lin grew up on the East Coast, living in Pennsylvania first, then moving to other areas before going to California in the early 1980s, where we eventually met.
David:
I was born in Lima, Peru, and lived for much of my early life in South America. I graduated high school and attended college in California. My two sons were the products of a first marriage. Matt lives currently in Maui, Hawaii, and Josh in California.
While living in Hawaii, I met Lin (living in California) through mutual friends. We were married in Kailua-Kona, the Big Island, where our daughter Kelsey was born.
Living in "Other" Countries: Because we both work via the internet, we have been free to live pretty much anywhere in the world.
Besides living in various states, including Pennsylvania, North Carolina, West Virginia, California, and Washington, Lin and I have lived in 4 countries in Central and South America.
Since 1992, we have spent many years in Ecuador, Bolivia, Nicaragua, and Peru as volunteers with Jehovah's Witnesses. During these years, we have supported ourselves first as teachers and then working via the internet.
Lin went through major empty nest syndrome when our daughter, Kelsey, decided to stay in Bolivia, South America, where we had been living during her teen years. Mom and Dad (us) moved to Jinotepe, Nicaragua, for a year.
In 2005, Lin and I made the decision to say goodbye to the balmy evenings of the tropics to move to the evergreen State of Washington to help care for my aging parents, where we remained for 3 years.
In December of 2009
, Lin and I were able to move again; this time to the "tropical desert" beach town of Los Organos in Northern Peru. In Los Organos, we were able to pursue two of our hobbies, surfing and
collecting sea glass (see the first website we built)
, during our non-working hours.
After living in Los Organos a year and a half, we were back in Washington for health reasons (not anything related to living in Latin America LOL).

Since mid 2013
we have been in Peru, this time settling in
Huanchaco
, a beach town near Trujillo, Peru.
Having been born and raised here in Peru and neighboring countries, doing a website seemed like a natural progression of our web experience...and an exciting and entertaining long-term project.

Thus, in early 2010, Inside-Peru.com was born.
Also, at that time, since we were living in a somewhat- isolated town on the North Coast of Peru with an abundance of sunny day, we started a third website, Solar-Energy-Pros.com, which we later sold..

Our Family
Early in 2010, Kelsey married a great guy, Cesar Mendizabal, and lives in Cochabamba, Bolivia, one country south of us now.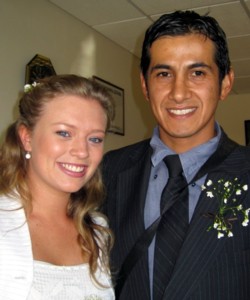 Kelsey and Cesar Mendizabal
Here we are with David's oldest son, Matt "Sharky" Schneider, a longtime surfer who lives some years on Kauai, Hawaii and others in the Santa Cruz, California area.

David, Matt, and Lin Schneider
David's second son, Josh, with his wife Claudia and daughters Arianna and Kiley, live in La Selva Beach, Northern California.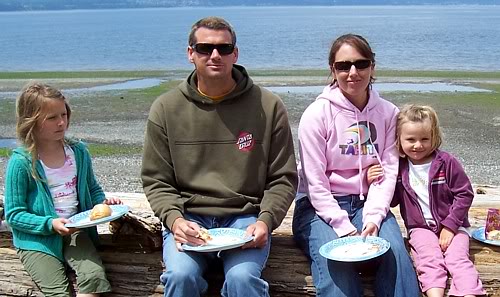 Arianna, Josh,Claudia, and Kiley Schneider
All in all, we have a great family and friends, are spiritually "well-nourished," and are able to live a fascinating life here in Peru or elsewhere!
How we created this site:
We always wanted to do work from home, from any part of the world, which would bring in a monthly income.
We also wanted to work at our convenience and at the same time enjoy doing it, too. We knew internet was the best way to accomplish this. We had tried several things on the net, but nothing came close to our expectations.
Then we stumbled upon
SiteBuildIt (SBI)
which we studied in detail. SBI had everything we were looking for, in fact much more than we had expected.
SBI guided us, non-techies, to build a successful website step-by-step at our own pace, helping us to build a nice little niche based on the passion and knowledge of sea glass collecting.
Started in December 2008, that site,
OdysseySeaGlass.com
, has done way better than we ever expected with over 600 visitors a day now and around $300 a month coming in from just the Google ads.
So early in 2010, we started two more sites,
Inside-Peru.com,
and the afore-mentioned Solar-Energy-Pros.com (which we subsequently sold).
We now enjoy every moment creating this site. During the process, we have learned many new things that otherwise we wouldn't have known at all.
If you too have a passion like us, whatever you are passionate about, and want to go forward to fulfill your dream, you are most welcome to have a look at how we did it.
Watch this Video
.
If you are a person capable of following the instructions on your own to build your site and/or run a successful web business just
click here.
OR
If you are a person who needs person to person help with an instructor to take you through the steps to build and run a successful web business, just
click here to take the elearning course of 12 weeks.
It's of interest to know that the SBI course is taught in 25 Universities around the world at the time of this writing and more are currently being added.
Do
contact us
if you have questions about building a website like this.
We hope that you have success with your online business.
David and Lin Schneider